Paper trading, also known as virtual trading or simulated trading, is a practice in which individuals or investors simulate the process of trading securities without using real money. Instead, they use a simulated trading platform that replicates the actual market conditions and allows users to execute trades, track performance, and monitor the impact of their investment decisions. Paper trading provides a risk-free environment for individuals to gain experience in trading without incurring any financial losses. It is commonly used by novice traders, investors, and students to learn about the dynamics of the financial markets, test investment strategies, and practice executing trades.
In paper trading, users are typically provided with a virtual account balance, which they can use to buy and sell stocks, bonds, options, or other financial instruments based on the current market prices. The platform records the transactions and keeps track of the user's portfolio value, giving them a realistic sense of how their trades would have performed if they were using real money. By engaging in paper trading, individuals can develop and refine their trading skills, understand market trends, analyze investment strategies, and assess the potential risks and rewards of different trading approaches. It's a valuable tool for building confidence, experimenting with new investment techniques, and evaluating the performance of specific trading strategies before committing real capital (read, your hard-earned money!) to the market.
Does Thinkorswim offer paper trading?
Yes, Thinkorswim, a popular trading platform developed by TD Ameritrade (now part of Charles Schwab), does offer paper trading capabilities. Thinkorswim's paper trading feature allows users to practice trading without risking real money. It provides a simulated trading environment where users can execute trades, monitor their portfolios, and test various trading strategies. With Thinkorswim's paper trading, users can access a wide range of financial instruments, including stocks, options, futures, and forex. The platform provides real-time market data1 and a suite of advanced trading tools and charting capabilities, allowing users to perform technical analysis and make informed trading decisions.
Thinkorswim's paper trading feature is particularly popular among both beginner and experienced traders who want to practice and refine their strategies before trading with actual funds. It allows users to gain familiarity with the platform's features, test different order types, assess risk management techniques, and track the performance of their virtual trades.
The difference between paper trading and on-demand
Thinkorswim offers two distinct features for simulated trading: paper trading and on-demand.
Paper Trading: Thinkorswim's paper trading feature allows users to practice trading in a simulated environment using virtual funds. It replicates real-time market conditions and provides users with a virtual account balance to execute trades, monitor portfolios, and test various trading strategies. Key features of paper trading include:

Simulated trading environment: Users can trade stocks, options, futures, and forex using virtual money, enabling them to practice without risking real capital.
Real-time market data: Paper trading reflects live market conditions, providing users with access to real-time prices, quotes, and market depth.
Tracking and performance analysis: Users can monitor their paper trading portfolio, track trades, and evaluate the performance of their virtual trades over time.
Practice and experimentation: Paper trading allows users to test different trading strategies, explore advanced order types, and gain familiarity with the platform's features.
On-Demand: On-demand is a unique feature within Thinkorswim that enables users to access historical market data and replay it as if it were happening in real-time. Unlike paper trading, on-demand is not limited to simulated trading with virtual funds. Instead, it allows users to review and analyze past market conditions to refine their strategies or learn from historical price movements. Key features of on-demand include:

Historical data replay: Users can select specific dates and times and replay the market activity as if it were occurring in real-time.
Advanced charting and analysis: Users can apply technical indicators, draw trend lines, and perform analysis on historical data to study patterns and price movements.
Strategy evaluation: Traders can test their strategies on historical data, assess their performance, and make adjustments based on past market conditions.
Learning and education: On-demand provides an opportunity for traders to review historical events, study market behavior, and enhance their understanding of the markets.
In short, Thinkorswim's paper trading feature focuses on simulated trading with virtual funds in real-time market conditions, while the on-demand feature allows users to replay historical market data for analysis, strategy refinement, and educational purposes.
Thinkscript
The best part about all of this is that ThinkScript indicators can be used with both Thinkorswim's paper trading and on-demand features! ThinkScript is a scripting language developed by TD Ameritrade that allows users to create their own custom studies, strategies, and alerts within the Thinkorswim platform.
When using Thinkorswim's paper trading feature, you can apply your custom ThinkScript indicators to analyze the simulated market data and test your trading strategies. The platform provides a built-in editor where you can write and modify ThinkScript code, and then apply those custom indicators to your paper trading charts.
By utilizing custom ThinkScript indicators while paper trading, you can enhance your analysis, identify potential trade setups, and evaluate the effectiveness of your trading strategies in a simulated environment. This can help you gain confidence in your custom indicators and refine them before using them in live trading with real money.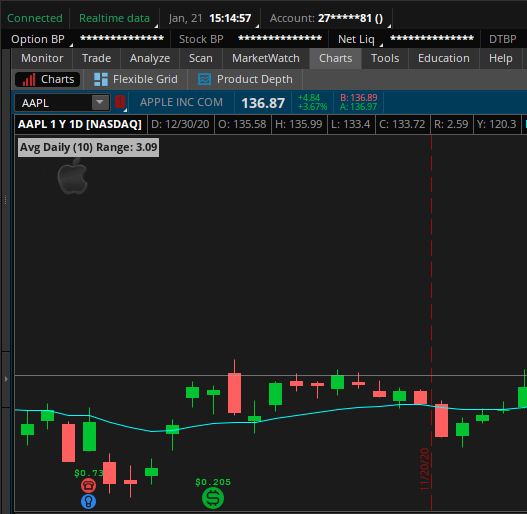 TD Ameritrade Studies/Indicators
thinkScript is a programming language that gives the capability of creating analysis tools such as studies, strategies, watchlist columns, etc. By purchasing scripts from Trade For Me, there's no programming required!
These Thinkorswim (TOS) indicators are easy to install and provide you the additional edge you need for trading.
1. Real-time market data is available only with a funded account, and you must sign the exchange agreements first. Additionally, to remove the delay from your PaperMoney account you'll need to contact TD Ameritrade support directly either through phone support or by chat.