In the fast-paced world of trading, having access to advanced tools and platforms can make all the difference. Thinkorswim, a leading trading platform by TD Ameritrade (now owned by Charles Schwab), provides traders with a comprehensive suite of features to analyze, execute, and manage trades effectively. Among its many capabilities, Thinkorswim offers the ability to create and leverage custom scripts, enabling traders to generate powerful buy and sell signals. In this blog post, we will explore how Thinkorswim's scripting capabilities can enhance your trading strategies and help you make informed decisions.
Understanding thinkScript
At the heart of Thinkorswim's scripting capabilities lies thinkScript, a proprietary scripting language designed specifically for the platform. thinkScript allows traders to create custom studies, indicators, and strategies to analyze market data and generate personalized trading signals. Just because it's a proprietary scripting language, however, doesn't mean you must know how to write code to utilize these powerful tools. More on that later.
Creating Custom Buy and Sell Signals
With thinkScript, traders can develop custom scripts to identify specific market conditions and generate buy and sell signals accordingly. This opens up a world of possibilities, enabling you to tailor your trading strategy to your unique preferences and risk tolerance.
To create a custom signal, you can define the conditions that must be met for a buy or sell signal to trigger. These conditions can include technical indicators, moving averages, trend lines, or any other parameters relevant to your trading strategy. Once the conditions are met, thinkorswim will automatically generate alerts or even execute trades on your behalf.
Backtesting and Optimization
One of the most valuable features of thinkorswim is its ability to backtest and optimize custom scripts. Before deploying a trading strategy in real-time, it is crucial to evaluate its performance using historical data. With thinkScript, you can test your custom buy and sell signals against past market conditions to determine their effectiveness.
By backtesting, you can assess the profitability, risk, and overall performance of your strategy. This process helps you identify potential weaknesses or areas for improvement, allowing you to refine and optimize your trading signals over time.
Leveraging Thinkorswim's Community
As I stated before, just because it's a proprietary scripting language doesn't mean you must know how to write code. In fact, the thinkorswim platform boasts a vibrant community of traders who actively share their scripts and strategies. Leveraging this community can provide you with a wealth of knowledge and ideas for building effective trading signals. By exploring shared scripts and indicators, you can gain insights into different trading approaches and adapt them to suit your trading style.
In addition to the great community of traders, there are many companies that create and sell custom indicators, like us :), that provide installation and usage support, as well as regular updates to the code when necessary. Furthermore, the thinkScript Lounge, an online forum dedicated to thinkScript users, is an excellent resource for troubleshooting, seeking advice, and collaborating with fellow traders. Engaging with the community not only expands your understanding of thinkScript but also opens doors to valuable connections and learning opportunities.
Conclusion
Thinkorswim's powerful scripting capabilities, combined with its comprehensive suite of tools, make it a go-to platform for traders looking to develop and implement custom buy and sell signals. By harnessing the potential of thinkScript, you can create personalized trading strategies that align with your goals and risk tolerance. Remember to backtest and optimize your signals to ensure their effectiveness, and leverage the Thinkorswim community for inspiration and collaboration. With Thinkorswim, you can take your trading to new heights by unleashing the power of custom scripts and unlocking profitable opportunities in the market.
Just remember not to share our code 🙂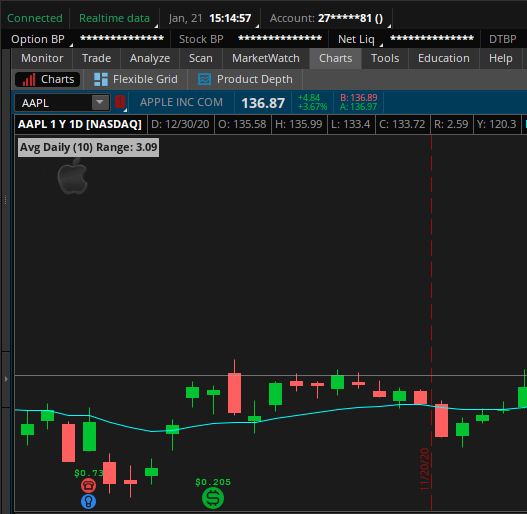 TD Ameritrade Studies/Indicators
thinkScript is a programming language that gives the capability of creating analysis tools such as studies, strategies, watchlist columns, etc. By purchasing scripts from Trade For Me, there's no programming required!
These Thinkorswim (TOS) indicators are easy to install and provide you the additional edge you need for trading.